Varieties of Jesus Mythicism: Did He Even Exist? edited by John W. Loftus and Robert M. Price, is an anthology for the general reader. The subtitle indicates that the book is a response to Bart Ehrman's 2012 book, Did Jesus Exist? The Historical Argument for Jesus of Nazareth.
Loftus and Price include chapters that respond specifically to historicist claims made by Ehrman and two other historicists, James McGrath and Maurice Casey. In addition, there are chapters by 14 contemporary English-speaking Jesus mythicists. Some chapters directly address the question of Jesus's historicity. Other chapters present mythicist scenarios for the origin of the Jesus figure or the gospels.
Here's the Table of Contents:
Foreword by Richard C. Miller
Preface "The Jesus of the Gospels Didn't Exist" by John Loftus
Introduction "New Testament Minimalism" by Robert M. Price
Part 1 Varieties of Jesus Mythicism
1 Why Mythicism Matters, by Dave Fitzgerald.
2 Jesus Christ, by Barbara G. Walker
3 Dying and Rising Gods, by Derreck Bennett
4 Christianity is a Western Branch of Buddhism, by Michael Lockwood
5 The Roman Provenance of Christianity, by Joseph Atwill
6 Pauline Origin of the Gospels in the Wake of the Jewish-Roman War, by R.G. Price
7 Under the Mushroom Tree, by Michael Hoffman
8 Star-Lore in the Gospels, by Bill Darlison
9 The Mythic Power of the Atonement, by Robert M. Price
10 A Sacrifice in Heaven: The Son in the Epistle to the Hebrews, by Earl Doherty
11 The Jewish Myth of Jesus, by Stephan Huller
12 Jesus: Pre-Existent and Non-Existent, by Robert M. Price
13 Mark's Gospel: A Performed Play in Rome, by Danila Oder
Part 2 Mythicist Rejoinders to Biblical Scholars
14 Is There a Man Behind the Curtain? A Response to Bart Ehrman, by Robert M. Price
15 A Rejoinder to James McGrath's Case for Jesus, by Neil Godfrey
16 Everything is Wrong with This: The Legacy of Maurice Casey by Tim Widowfield
The authors have taken their task seriously, and miniaturized their theories into chapters targeted at the college-educated general reader. The reader can enter most of the chapters 'cold' and read through to the end. Earl Doherty's (previously published) chapter is more advanced. But worthwhile. Brilliant in fact. It is the work that showed me that a Jesus figure could be created in a Jewish sect. It convinced me to be a mythicist.
I was particularly impressed with the chapters by Derreck Bennett and Bill Darlison, and "Jesus: Pre-Existent and Non-Existent" by Robert M. Price. These are informational, succinct, and perfectly pitched at the reader. I learned something from almost all of them, and I will use them as resources for future research.
This anthology puts Jesus mythicism on a firm scholarly footing. Scholars of comparative religion (mythology, dying-and-rising gods, Buddhism), astrology (a major science in antiquity), Roman history, theology, and Christian and proto-Christian texts, provide approaches that all point to the absence of a human Jesus of Nazareth.
But then how was Christianity created? Four chapters here offer explanations of what did happen (Doherty's chapter, Huller's scenario based on Mystic Mark, Atwood's Flavian conspiracy theory, my scenario of Mark as a playwright in Rome). I'm not sure how much further historians can go, given the untrustworthiness of essentially all of the relevant, extant second-century texts. But at least we've made a start.
(Update July 8, 2022: Rene Salm has added to the worthy mythicist proposals his "new account of Christian origins" based on the prophet Yeshu ha-Notsri. Salm's summary of his very long argument is here. I think his scenario is largely though not entirely plausible.)
As to the physical book, the internal layout and proofreading are adequate. However, the publishers omitted the brief biographies of the contributors. Therefore, they are online at the site of editor John W. Loftus. The publisher did not provide chapter titles as running heads at the top of the page, a standard practice in anthologies. The cover is unprofessional; the contents deserve better. Online commenters have stated that the Kindle edition does not include a table of contents.
The book is available as a trade paperback (400 pages) and Kindle. I recommend it for readers who are familiar with the works of popular historicists like Ehrman and want to know the other side, for people who have always wondered how Jesus of Nazareth started a religion, for mythicists who want to read 'around' the subject, and for college or adult education classes (or religion book clubs). 4.5 stars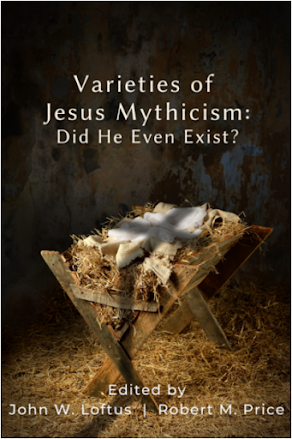 Updates: (July 8, 2022: added Salm's argument)